Plant Sales
2023 Schedule
June 3 (Saturday): Members' plant sale at Robbins Park in Ambler
September 9 (Saturday): Sale open to the public at the Fall Gardeners' Market
September 23 (Saturday): Members' plant sale at Robbins Park in Ambler
Members' Plant Sales
These plant sales feature plants that are suited to our climate and are very reasonably priced, starting at a dollar a pot. Our silent auction plants are legendary for offering unusual plants, as well as hypertufa troughs and other sought-after items.

Plant donations are accepted from 8:45 to 9:45 AM, and plants for sale may be previewed up to 10 AM. The sale opens at 10 AM. Plants sell out fast, so we strongly recommend arriving before 10 and using the preview period to decide which plants you want.

Instructions for donors: Plants must have a white label with the botanical name of the plant on one side and donor's name on the other side. For every 10 plants donated, donors receive 10 free plant labels and the right to select one early-choice plant (up to 5 early-choice plants). You'll be allowed several minutes to shop for your early-choice before non-donors start shopping. (Early-choice plants aren't free plants; you still pay full price.) Plants of exceptional rarity or quality are welcomed for the silent auction; extra credits for early-choice plants will be given.

The selection is different at every sale. As an illustration, here are some the items at our sale in September 2022: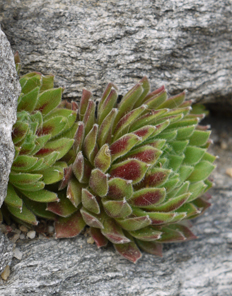 We will have lots of Sempervivums (hen-and-chicks) at the members' plant sale.
Book: The Crevice Garden by Kenton Seth & Paul Spriggs
Hypertufa trough
Achillea 'Apricot Delight'
Adiantum venustum
Androsace sarmentosa
Aethionema saxatile
Asarum fauriei 'Takaoi'
Asarum shuttleworthii 'Calloway'
Bellium minutum
Campanula hoffmannii
Campanula saxifraga aucheri
Carex radiata
Clivia miniata (not hardy)
Daphne x translatlantica 'Eternal Fragrance'
Dianthus 'Everbloom Red Delicious'
Dianthus 'Everbloom Watermelon Ice'
Dianthus monspessulanus
Dianthus myrtinervis
Dianthus subacaulis
Draba novegica
Dryopteris goldiana
Gentiana angustifolia
Gypsophila fischeri
Gypsophila petraea
Haemanthus albiflos (not hardy)
Hosta 'Spilled Milk'
Houstonia caerulea
Hymenoxys acaulis
Hypericum stragulum
Ionactis nemoralis
Iris sanguinea
Pavonia lasiopetala
Penstemon sp.
Phemeranthus calycinus
Podophyllum 'Rudolph'
Potentilla neumanniana
Pulsatilla vulgaris
Saxifraga longifolia
Saxifraga paniculata
Saxifraga paniculata dwarf form
Sedum 'Autumn Charm'
Sedum 'Touchdown Teak'
Sempervivum cvs.
Solidago nemoralis
Solidago plumosa
Speirantha convallarioides
Sternbergia lutea
Symphyotrichum ericoides 'Snow Flurry'
Thymus 'Doretta Klaber'
Thymus praecox 'Coccineus'
Thymus quinqucostatus ibukiensis 'Alba'
Thymus serpyllum 'Pink Ripple'
Vaccinium macrocarpon
Valeriana pauciflora
... and many more
Fall Gardeners' Market
Saturday, September 9 at the Montco 4H Center, 1015 Bridge Road, Collegeville, PA. We will be selling rock garden plants, other unusual plants, and hypertufa troughs, and natural tufa.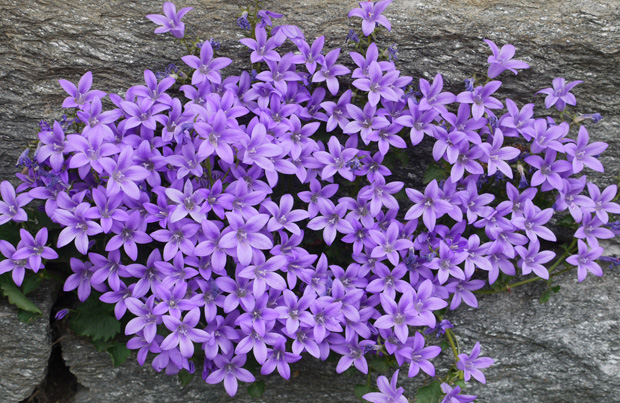 Campanula portenschlagiana 'Resholdt's Variety' (Dalmatian bellflower). Photographed May 6, 2010 in Philadelphia. Photo by Janet Novak.