Volunteer for Chapter Activities
Recording Secretary
The chapter is in need of a co-recording secretary to assist Hope Punnett. Exercise your flair for writing by covering our chapter meetings for The Dodecatheon. In brief, the duties are as follows:
Writing up the talks given at the Saturday morning meetings
Obtaining permission from the presenter for using material, i.e., photographs, charts, etc from the presenter
Emailing the report to the newsletter editor, Sharee Solow, by the deadline for submissions
By sharing the position, two individuals can take turns covering the meetings or covering for each other if schedule conflicts arise. Please respond to Louise Clarke, Chapter Chair (email or 215 990-8140) to begin writing for The Dodecatheon.
Nominations
The board is also seeking assistance with nominations. You can be an invaluable help by canvassing members for their interest in serving on the board and committees as positions for existing board members expire. You'll assist the board by presenting a slate of candidates for election. Step up to the plate by responding to Louise Clarke, Chapter Chair (email or 215 990-8140).
Flower Show Committee Chair
In 2022, the Philadelphia Flower Show returns to the Convention Center. Will the DVC-NARGS exhibit return? For that to happen, we need a Flower Show Committee Chair person. The chair leads the flower show committee in designing the display, obtaining plants and other materials, and coordinating the volunteers who assemble, staff, and take down the exhibit. Show your dedication by contacting Louise Clarke, Chapter Chair (email or 215 990-8140)
Programs
The program chair, currently Laura Axel, is seeking a co-chair and/or subcommittee to share that position's expansive responsibilities. A meeting logistics coordinator will liaise directly with Laura to reserve meeting spaces and coordinate payment for rental space with the treasurer. Currently the Greater Plymouth Community Center is the chapter's usual meeting venue, but on occasion another venue may need to be secured for events like our in-house plant show. When COVID restrictions ease, this position will be critical to allowing us to once again meet in person. Please contact Laura Axel, Program Chair (email or 215 901-5851).
Garden Visit Coordinators: position filled!
Jill Evans and Louise Clarke will work as a sub-committee for the program chair as the garden visit coordinator. Each year in May or June, chapter members enjoy a garden visit or multiple visits on a weekend day. The coordinators will select the gardens to be visited, arrange details of the visit to include date, time, addresses, host contact information, and any special instructions from the garden hosts. Information is posted in The Dodecatheon and emailed to the membership. Follow-up thank-you letters are also required. This position will be responsible for planning the 2022 garden visit(s).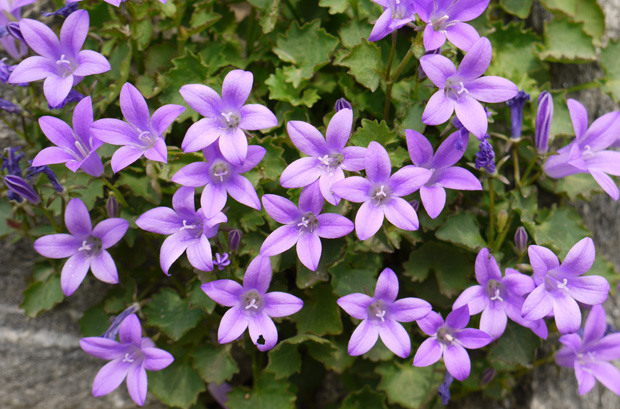 Campanula portenschlagiana 'Resholdt's Variety' (Dalmatian bellflower) growing between the stones of a rock wall. Photographed May 6, 2010, by Janet Novak.