Chapter Meetings and Events
For details on the program and location of each meeting, download the current issue of Dodecatheon.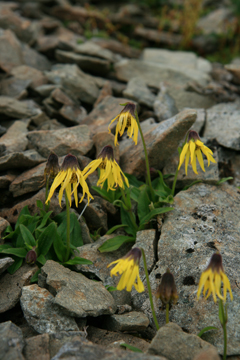 Arnica lessingii near the Bering Glacier in Alaska. Photo by Anton Reznicek
January 8 at 10 AM
Chapter Meeting
Members' Show and Tell
By Zoom. Members will receive a link to the meeting by email.
February 12 at 10 AM
Chapter Meeting
Jeremy A. Schmidt of Plant Delights will give a presentation, "From Big Rocks to Little Rocks: The Story of Stone as Told by a Garden-Variety Geological Plagiarist".
By Zoom. Members will receive a link to the meeting by email.
March 12 at 10 AM
Chapter Meeting
Johan Nilson, Horticultural Curator of Bulb Collections at Gothenburg Botanical Garden in Sweden, will give a talk, "Bulbs and Alpines at Gothenburg Botanical Garden" By Zoom. Members will receive a link to the meeting by email.
April 9 at 9 AM
Chapter Plant Show and Meeting
Registration of plants for the show will begin at 9 AM and member judging at 9:30 AM. For plant show rules and classes, see the March-April Dodecatheon Mike Slater will give a presentation on Patagonia, "The End of the World"
At the Presbyterian Church of Chestnut Hill (8855 Germantown Avenue in Philadelphia)
May 14
Chapter Members' Plant Sale
Open only to DVC-NARGS members and their guests.
8:30-9:30 AM: Plant donations accepted
10 AM: Sale opens
The sale will be held rain or shine, so dress appropriately for the weather. More information is on our plant sale page.
Location: Morris Arboretum's Bloomfield Farm (303 E. Northwestern Avenue, Lafayette Hill, PA
June 14-17
NARGS Annual General Meeting: "Alpine Visions"
Ithaca, NY
For more information and registration, see NARGS AGM 2022
August 13
Chapter Garden Tour
Gardens in the Media-Swarthmore area; details to be announced
August 20
Public plant sale at the Fall Gardeners' Market
At the Montco 4H Center, 1015 Bridge Road, Collegeville, PA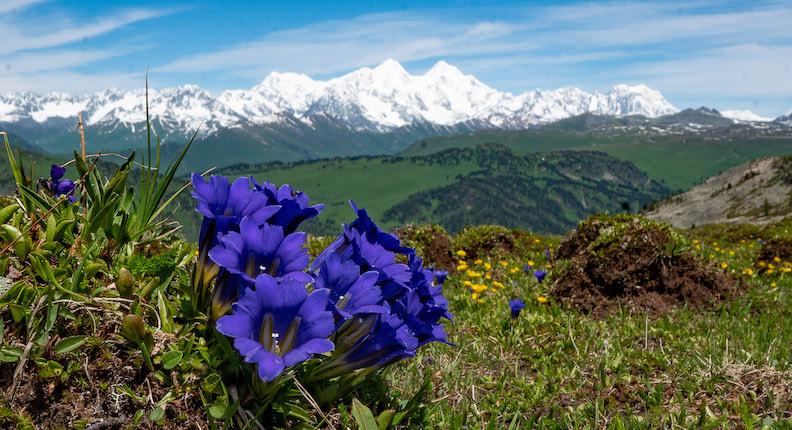 Gentians in Kazakhstan. Photo by Paul Meyer.