Chapter Meetings and Events
For details on the program and location of each meeting, download the current issue of Dodecatheon.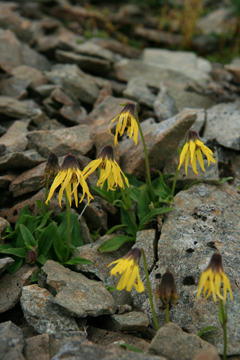 Arnica lessingii near the Bering Glacier in Alaska. Photo by Anton Reznicek
January 13 at 10 AM
Chapter meeting: Members' Show and Tell
Plymouth Township Community Center (Directions)
February 10 at 10 AM
Chapter Meeting
Louise Clarke will speak on the plants of western Australia
Plymouth Township Community Center (Directions)
March 3-11
Philadelphia Flower Show
Visit our display!
Philadelphia Convention Center, 12th & Arch Streets, Philadelphia
April 14
Chapter Plant Show: Those entering plants must register them between 9 to 9:30 AM. All can view and judge the show from 9:30 to 10 AM.
Chapter meeting: 10 AM
Janet Novak will talk on the basics of rock gardening, and Mike Slater will talk on dry sand beds.
Church of the Redeemer, 145 W. Springfield Road, Springfield, PA (Directions)
May 10-12
Plant Sale at Morris Arboretum
Our group will sell rock garden plants, troughs, and more. The sale is open to Morris donors on Thursday, to members of our chapter and of Morris Arboretum on Friday, and to the public on Saturday. More information.
Morris Arboretum, Philadelphia
May 19 at 10 AM
Chapter garden tour. We will visit three gardens. First is Marianne Price's garden in Broomall. Nearby is Rick Ray and Liz Ball's garden, where we're invited to eat our lunch. The final garden is Carolyn Walker's garden in Bryn Mawr. The visit coincides with an open day of her nursery, Carolyn's Shade Gardens.
June 2 at 8 AM
Join us for a day-long trip to NYBG, with its 250 acres of conservatories and gardens. We can also see the garden's major art exhibit of the year: "Georgia O'Keefe: Visions of Hawaii."
This trip is open to non-members as well as members. To sign up, send in the registration form with a $30 deposit.
The bus departs from Plymouth Meeting Mall.
June 9
Chapter Plant Sale
Plant donations are accepted from 8:30 to 9:30 AM; sale opens at 10 AM
Members may bring guests to the sale.
Robbins Park, Ambler, PA (Directions)
June 23 at 10 AM
Bog garden workshop
Learn about bog gardens and make a bog garden in a container. To sign up, download the registration form.
Location: Aquascapes Unlimited, Pipersville, PA
July 6-8
NARGS Annual General Meeting in St. John's, Newfoundland, Canada
For information, see the NARGS meeting page.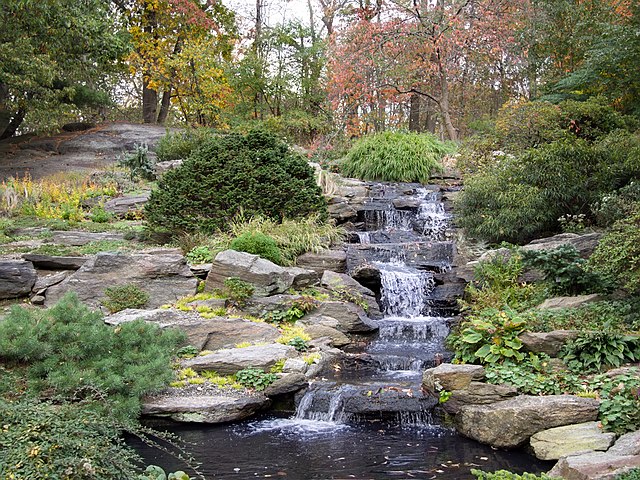 Waterfall in the rock garden at the New York Botanical Garden. Our group is taking a bus trip to the garden in June. Photo by Rhododendrites via Wikimedia Commons.