Plant Sale Volunteers, May, 2019
Volunteer to work our chapter tables at the Morris Arboretum Plant Sale. The open slots are underlined. To sign up, email Hope Punnett or call her at 215-848-5577. Provide your full name, phone number, and email, along with the time slot(s) you want.
May 8
(Wed)
Set up sales area
May 9
(Thu)
Preview for
Morris Donors
May 10
(Fri)
Members' Day
May 11
(Sat)
Public Sale
9:45 AM to 1 PM

S. Solow
L. Demme
L. Berestetska
N. Stedman
9:45 AM to 12:30 PM

P. Burns
H. Punnett
M. Smyth

1 to 4 PM
(Set-up only)

J. Rifkin
S. Vernick
J. Novak (2:15-4)
C. Vorhees
J. Haas
____________
12 to 2:30 PM

D. Lauer
____________
1 to 4 PM

L. Berestetska
P. Burns
J. Plum

12:30 to 3 PM

S. Vernick
J. Vernick
J. Rifkin
4:30 to 7 PM

J. Novak
C. Gresham

4 to 7 PM

S. Vernick
C. Walker
J. Gyer
Volunteer for Chapter Activities
The chapter is seeking volunteers to write articles for our newsletter, The Dodecatheon. If interested, contact the editor, Joan Haas.
The chapter is also seeking volunteers to help with plant sales. If interested, contact Janet Novak.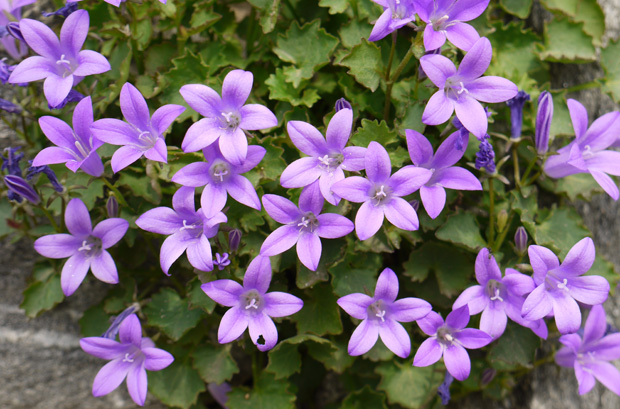 Campanula portenschlagiana 'Resholdt's Variety' (Dalmatian bellflower) growing between the stones of a rock wall. Photographed May 6, 2010, by Janet Novak.