Plant Sales
2018
Plant sale at Morris Arboretum, May 10-12
Chapter plant sale, June 9
Chapter plant sale, September 8
Plant Sale at Morris Arboretum, May 10-12
The Delaware Valley Chapter of the North American Rock Garden Society is represented at the Morris Arboretum Plant Sale. We offer a range of rock garden plants and hypertufa containers. For 2018, the plants will include the following: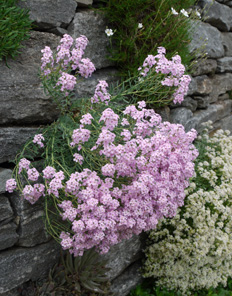 Aethionema grandiflorum (Persian stone-cress) planted in a stone wall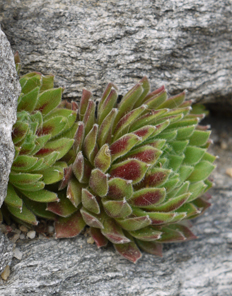 Sempervivum arachnoideum 'Stanfieldii' (hen and chicks). Our plant sale will include sempervivums in a range of colors and sizes.
Saponaria 'Bressingham'
Achillea tomentosa 'Golden Fleece'
Adonis amurensis
Aethionema grandiflora
Allium senescens 'Glaucum'
Antennaria dioica 'Rubra'
Anthemis carpatica 'Snow Carpet'
Arabis procurrens 'Variegata'
Asarum takaoi
Aubrieta 'Dr. Mules Variegata'
Campanula garganica 'Dickson's Gold'
Campanula portenschlagiana 'Lieselotte'
Campanula punctata 'Little Punky'
Campanula portenschlagiana 'Resholdt's Variety'
Carex caryophyllea 'Beatlemania'
Chiastophyllum oppositifolium
Cymbalaria aequitriloba
Delosperma 'Fire Spinner'
Dianthus deltoides 'Flashing Lights'
Edraianthus graminifolius
Erodium chrysanthum 'Yellow Form'
Erodium reichardii
Erodium x variabile 'Roseum'
Erodium x variabile 'Flore-Pleno'
Geranium dalmaticum
Geum coccineum 'Koi'
Gypsophila cerastioides 'Pixie Splash'
Gypsophila repens 'Filou Rose'
Haplopappus glutinosus
Heuchera pulchella
Penstemon hirsutus 'Pygmaeus'
Penstemon pinifolius 'Mersea Yellow'
Phlox douglassii 'Red Admiral'
Phlox silenefolia 'Betty'
Phyteuma scheuchzeri
Pratia pedunculata 'County Park'
Primula 'Wanda Blue Shades'
Primula elatior 'Victorian Gold Lace Red'
Primula veris 'Sunset Shades'
Rosularia sempervivum ssp. glaucophylla
Sanguinaria canadensis 'Multiplex'
Saponaria 'Bressingham'
Sedum 'Golden Queen'
Sedum album 'Coral Carpet'
Sedum anglicum 'Love's Triangle'
Sedum dasyphyllum 'Blue Cadet'
Sedum makinoi 'Limelight'
Sedum stefco
Sedum tetractinum
Sempervivum, assorted varieties
Silene uniflora 'Druett's Variegated'
Solidago cutleri
Solidago 'Goldrush'
Stachys byzantina 'Silky Fleece'
Stachys officinalis 'Nana'
Thalictrum thalictroides 'Pink Pearl'
Thymus cherlerioides 'Silver Needle'
Thymus praecox 'Highland Cream'
Thymus praecox 'Albus'
Trillium recurvatum
Veronica liwanensis
Veronica prostrata 'Aztec Gold'
Veronica repens 'Sunshine'
Waldsteinia fragarioides
Chapter Plant Sales
Chapter plant sales are open only to members of DVC-NARGS and their guests. They are held at Robbins Park in Ambler, PA. Directions.

Our fall and spring plant sales are special benefits of belonging to our chapter. The are suited to our climate and are very reasonably priced, starting at a dollar a pot. Our silent auction plants are legendary for offering unusual plants, as well as hypertufa troughs and other sought-after items. Instructions for donors: Plants must have a white label with the botanical name of the plant on one side and donor's name on the other side. Donors receive one free plant label for every plant donated. In addition, donors are entitled to select up to five first choice plants, one for every ten plants donated, and are allowed several minutes to do this before non-donors are allowed to start shopping. Members pay for their first choice plants. Plants of exceptional rarity, quality, or size are welcomed for the silent auction; extra donor credits will be given.
Some of the plants that were available at our September 2017 sale: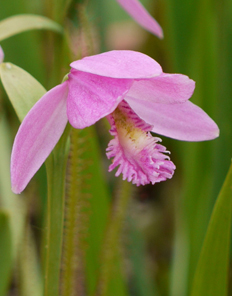 Pogonia ophioglossoides (rose pogonia), a native orchid that grows well in bog gardens.
Adiantum venustum
Aethionema 'Warley Rose'
Allium cernuum (provenance southeast Pennsylvania)
Allium stellatum
Alyssum oxycarpum
Aquilegia alpina
Aquilegia canadensis (provenance southeast Pennsylvania)
Aquilegia flabellata v. pumila
Arabis androsacea
Arabis procurrens
Arabis sturii
Asarina procumbens
Aster alpinus
Campanula 'Sarastro'
Campanula incurva
Campanula poscharskyana
Delosperma congestum
Dianthus 'Blue Hills'
Dianthus 'Joan's Blood'
Dianthus 'Karlik'
Dracocephalum ruyschiana
Erigeron scopulinus
Geranium maculatum album
Globularia repens 'Zander'
Gypsophila repens 'Roseum'
Hypericum kazdaghense
Limonium minutum
Lychnis yunnanensis
Lysimachia japonica var. minutissima
Meconopsis cambrica (yellow flowers; easy)
Pardancanda norrisii
Penstemon 'Jingle Bells' (tall coral)
Penstemon hirsutus 'Pygmaeus'
Penstemon pinifolius
Penstemon smallii
Phlox subulata 'Ellie B.'
Pogonia ophioglossoides
Scabiosa crenata
Scutellaria orientalis
Sempervivum cvs.
Solidago nemoralis (provenance southeast Pennsylvania)
Spiranthes odorata 'Chadd's Ford'
Talinum sp., probably Talinum calycosus
Thymus praecox 'Coccineus'
Thymus serpyllum 'Pink Ripple'
Tricyrtis 'Dr. Hirao's Strain'
Veronica prostrata 'Nestor'
Viola variegata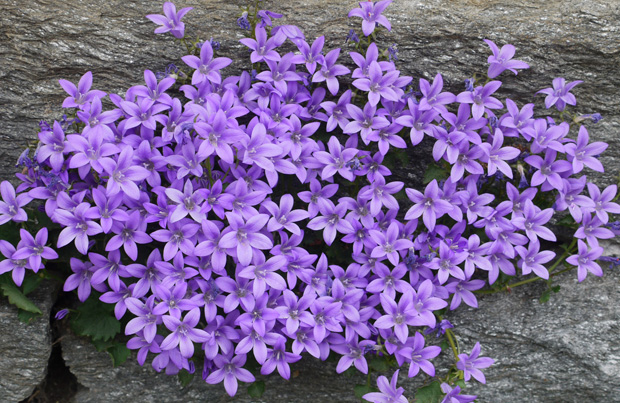 Campanula portenschlagiana 'Resholdt's Variety' (Dalmatian bellflower). We have offered this plant at the plant sale at Morris Arboretum. Photographed May 6, 2010 in Philadelphia. Photo by Janet Novak.