Plant Sales
2021 Schedule
June 12 (Saturday): Chapter plant sale at Morris Arboretum's Bloomfield Farm, Glenside, PA
August 28 (Saturday): Sale open to the public at the Hardy Plant Society's Fall Gardeners' Market. At PHS Meadowbrook Farm in Jenkintown, PA.
September 12 (Sunday): Chapter plant sale
Chapter Plant Sales
Chapter plant sales are open only to members of DVC-NARGS and their guests.

Plants for sale may be viewed from 9:45 to 10 AM, and the sale starts at 10 AM. Plants sell out fast, so we strongly recommend arriving before 10.

Chapter plant sales feature plants that are suited to our climate and are very reasonably priced, starting at a dollar a pot. Our silent auction plants are legendary for offering unusual plants, as well as hypertufa troughs and other sought-after items. Instructions for donors: Donations are accepted from 8:30 to 9:30 AM. Plants must have a white label with the botanical name of the plant on one side and donor's name on the other side. Donors receive one free plant label for every plant donated. In addition, donors are entitled to select up to five first choice plants, one for every ten plants donated, and are allowed several minutes to do this before non-donors are allowed to start shopping. Members pay for their first choice plants. Plants of exceptional rarity, quality, or size are welcomed for the silent auction; extra donor credits will be given.
Some of the plants that were available at a recent chapter sale: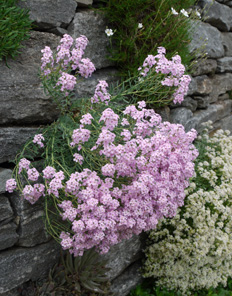 Aethionema grandiflorum (Persian stone-cress) planted in a stone wall
Adlumia fungosa
Aethionema 'Warley Rose'
Aethionema saxatilis
Agapanthus 'Midnight Blue'
Alyssum oxycarpum
Amelanchier canadensis
Aquilegia alpina
Aquilegia flabellata var. pumila
Arabis procurrens
Calycanthus floridus 'Athens'
Campanula hoffmanii
Campanula poscharskyana
Campylotropis macrocarpa
Carex 'Beatlemania'
Ceratostigma plumbaginoides
Cercis canadensis
Chimonanthus praecox Luteus
Chrysothamnus viscidiflorus
Clematis heracleifolia 'China Purple'
Clematis integrifolia
Corydalis sempervirens
Delosperma cooperi
Dianthus gratianopolitanus
Dianthus Karlik
Draba ramosissima
Dracocephalum ruyschianum
Echinacea tennesseensis hybrid
Epimedium x omeiense
Euphorbia myrsinites
Festuca abbreviata
Fibigia clypeata
Gelsemium sempervirens 'Margarita'
Globularia repens 'Zander'
Hakonechloa macra 'All Gold'
Hovenia dulcis
Indigofera amblyantha
Indigofera pseudotinctoria 'Rose Carpet'
Iris ensata
Iris setosa dwarf
Iris sibirica dwarf
Kirengeshoma palmata
Leptodermis oblonga
Limonium minutum
Oenothera macrocarpa ssp. incana
Orostachys sp.
Pardancanda norrisii
Penstemon 'Elfin Pink'
Penstemon hirsutus 'Pygmaeus'
Penstemon pinifolius
Phlox glaberrima
Phuopsis stylosa
Polygonatum (dwarf species)
Primula Candelabra Series
Primula veris
Pulsatilla vulgaris
Rhexia aristosa
Salvia lyrata
Saponaria ocymoides
Schizachyrium scoparium (local ecotype)
Sedum album 'Coral Carpet'
Sedum dasyphyllum 'Love & Tangles'
Sempervivum cvs.
Silene flos-cuculi (dwarf congested form)
Speirantha convallarioides
Spiranthes odorata
Talinum (Phemeranthus) calycinus
Tricyrtis hirta (white)
Ungnadia speciosa
Veronica austriaca ssp teucrium
Veronica gentianoides
Veronica prostrata 'Nestor'
Viola variegata
...and many more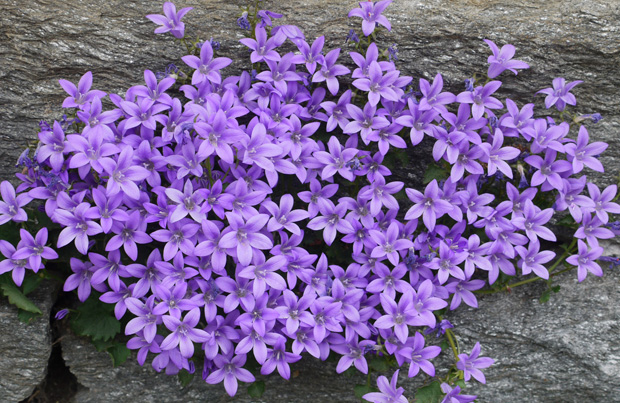 Campanula portenschlagiana 'Resholdt's Variety' (Dalmatian bellflower). Photographed May 6, 2010 in Philadelphia. Photo by Janet Novak.