Chapter Meetings and Events
For details on the program and location of each meeting, download the current issue of Dodecatheon.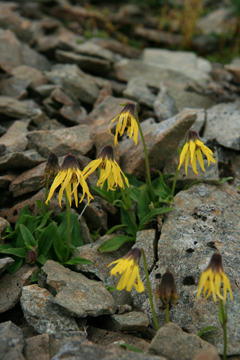 Arnica lessingii near the Bering Glacier in Alaska. Photo by Anton Reznicek
January 12 at 10 AM
Chapter Meeting
Members' Show and Tell: short presentations by Charles Cresson, Sharee Solow, Cyane Gresham, Rick Ray, Susan Treadway, Helen Lightcap, and Betty Mackey & Gwynne Ormsby
Plymouth Township Community Center (Directions)
February 9 at 10 AM
Chapter Meeting
Eva Monheim: "Front Door and Backyard Gardening"
Plymouth Township Community Center (Directions)
March 2-10
Philadelphia Flower Show
Visit our display!
Philadelphia Convention Center, 12th & Arch Streets, Philadelphia
April 13 at 10 AM
Chapter Meeting
Samantha Nestory, "Beneficial Insects in Your Garden"
Members please note: we will not have the chapter plant show at this meeting. Instead, the plant show will be held as part of the Study Weekend in May.
Plymouth Township Community Center (Directions)
May 3-5
Study Weekend: "Rooted in Diversity"
Sheraton Great Valley in Frazer, PA
For more info and registration, go to our Study Weekend site.
May 9-11
Plant Sale at Morris Arboretum
Our group will sell rock garden plants, troughs, and more. The sale is open to Morris donors on Thursday, to members of our chapter and of Morris Arboretum on Friday, and to the public on Saturday. More information.
Morris Arboretum, Philadelphia
June 8
Chapter Plant Sale and Garden Visit to Jenny Rose Carey's Garden
Members may bring guests to the sale.
Plant donations are accepted from 8:30 to 9:30 AM; sale opens at 10 AM. The garden visit will follow the sale.
Robbins Park, Ambler, PA (Directions)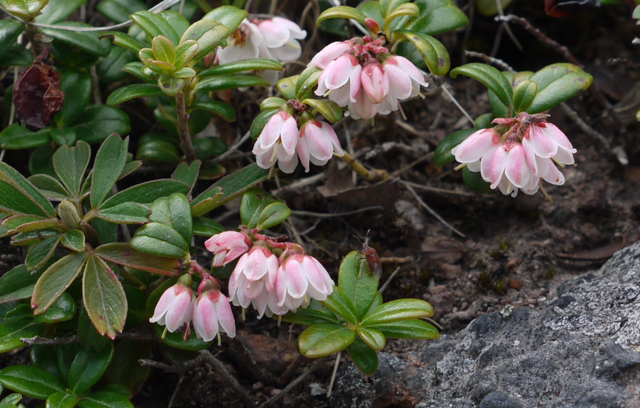 Mountain cranberry (Vaccinium vitis-idaea) in St. John's, Newfoundland, which was the site of the NARGS Annual General Meeting in July, 2018.